Use the following procedure as a guide to start FrontPage 2000.

1) Install FrontPage 2000, either from a FrontPage 2000 CD or as part of Microsoft Office Premium. In most cases, it is best to also install Internet Explorer 5, using the "custom" install and selecting the "Web Folders" option.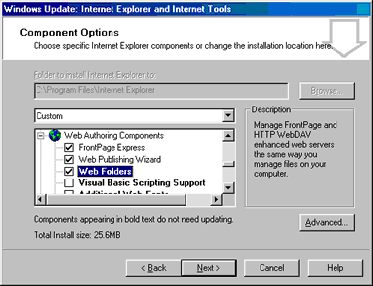 2) Go to the Windows START bar, select "Programs" and look for a program icon like this

. If you are having trouble locating the program, you might also look in for "C:\Program Files\Microsoft Office\Office\Frontpg.exe"
3) Start FrontPage, go to the FILE menu and select "Open Web...", make sure you have selected "Web Folders" in the left panel, and enter the URL of your child. When your are outside of the ECS LAN, you will need to use the IP address of the server (e.g., http://130.86.76.169/Site??). Inside the ECS LAN, you can use the server NT name (e.g., http://deathstar/Site??). Click on the OPEN button.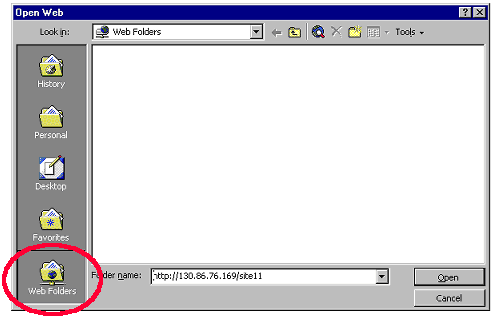 4) In the "Enter Network Password" dialog box, enter your class username and password as shown in the example below. You will need to prefix your user name with "deathstar\" (make sure to use a backslash, not a forward slash). Enter your password. Make sure to uncheck the "Save this password in your password list" box if you are in the lab or other shared workstation. Then click the OK button.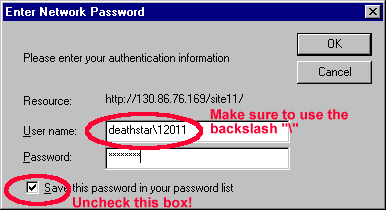 5) Depending upon how your web is set up and/or the last time it was opened, you may see the "Open File" box below. Select the file you wish to edit and click the OPEN button.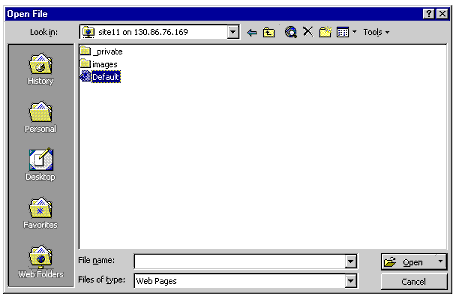 6) Once you are in the main pane, you may have a file open for editing in the right-most pane. To see all of your files, click on the "Folders" view.